This Day in Aviation History – The First Person Saved by a Parachute
Contributor: Barry Fetzer
Sources: thisdayinaviation.com, Bryan R. Swopes
Being the first at something can be a worthy achievement. Not always, but often. The first person to eat a raw oyster, for example, was a worthy achievement and that act has been lost to the dustbin of history.
Thankfully, the first person highlighted by today's "This Day in Aviation History" is recorded in history. And being the first to be saved by a parachute in an actual aircraft emergency? Well, that's quite an accomplishment, especially for the person saved…and his family. And in this case, even America greatly benefited from his being saved.
According the website "This Day in Aviation" and written by Brian Swopes, "On 20 October 1922 1st Lieutenant Harold Ross Harris, Air Service, United States Army, the Chief, Flight Test Branch, Engineering Division, at McCook Field, Dayton, Ohio, was test flying a Loening Aeronautical Engineering Company PW-2A monoplane, a single-engine, single-seat fighter. The PW-2A, serial number A.S. 64388, had experimental balance-type ailerons. During this flight, Lieutenant Harris engaged in simulated air combat with Lieutenant Muir Fairchild (future Vice Chief of Staff, United States Air Force) who was flying a Thomas-Morse MB-3.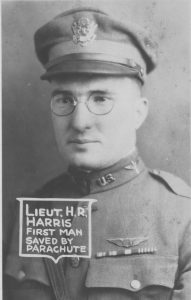 1st Lieutenant Harold Ross Harris, Air Service United States Army. (San Diego Air and Space Museum Archives)
"While banking the PW-2A into a right turn, Harris' control stick began to vibrate violently from side to side and the airplane's wings were "torn apart." With the Loening diving uncontrollably, Harris jumped from the cockpit at approximately 2,500 feet (762 meters). After free-falling about 2,000 feet (610 meters), he pulled the lanyard on his parachute which immediately deployed. Harris then descended with his parachute providing aerodynamic deceleration, coming safely to earth in the back yard of a home. He suffered minor bruises when he landed on a trellis in the garden.
Loening Aeronautical Engineering Company PW-2A, A.S. 64388. This is the airplane from which Lieutenant Harold R. Harris "bailed out" over Dayton, Ohio, 20 October 1922. (San Diego Air and Space Museum)
Harris' PW-2A crashed into a yard three blocks away. It was completely destroyed.
"This was the very first time a free-fall parachute had been used in an actual inflight emergency. Lieutenant Harris became the first member of the Irvin Air Chute Company's 'Caterpillar Club.'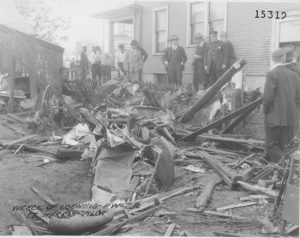 Crash scene at 403 Valley Street, Dayton, Ohio, 20 October 1922. (U.S. Air Force)
The Pittsburgh Post reported:
Flyer Quits Plane in Parachute, Saves Life; Unique Case
Dayton, O., Oct. 20.—Leaping from his Loening monoplane in a parachute when the plane became uncontrollable over North Dayton today, Lieutenant Harold R. Harris, chief of the flying section of McCook Field, escaped death when his plane crashed to earth.
Technical data, officials at McCook Field said, show that Lieutenant Harris' escape is the first time an air pilot has ever actually saved himself by use of a parachute. A mail plane flyer leaped in a parachute over Chicago several years ago, but the necessity of his leaving the plane was questioned.
Harris won the commercial plane event in the Pulitzer races in Detroit last week, flying the "Honeymoon Express" plane.
—The Pittsburgh Post, Saturday, 21 October 1922, Vol. 80, No. 303, Page 1, Column 1
"Harris left the Air Service in 1926. He founded the world's first aerial crop-dusting business, the Huff Daland Company. Next he became a vice president and chief of operations for Grace Airways, a joint venture of Grace Shipping and Pan American World Airways, providing passenger service between South America and the West Coast of the United States.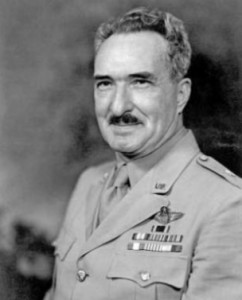 Brigadier General Harold R. Harris, U.S. Army Air Corps.
"During World War II, Harris, using his airline experience, helped to establish the Air Transport Command. In 1942, he was commissioned as a colonel in the U.S. Army Air Corps. By 1945, he was Chief, Air Transport Command, with the rank of Brigadier General.
"Following World War II, Harris joined American Overseas Airlines, which soon was absorbed by Pan American. Harris was once again a vice president for Pan Am.
"In 1955, Harris became president of Northwest Airlines.
"Brigadier General Harold Ross Harris, United States Army Air Corps (Retired) died 28 July 1988 at the age of 92 years." © 2016, Bryan R. Swopes