Southern Cross
Author: Bryan R. Swopes
Submitted by: Barry Fetzer
Where has May gone? It has "flown away" with June dawning its first day. And then before we know it, June will be gone. Try to enjoy the moments, for they rapidly fly away.
Can you imagine making a flight across the vastness of the Pacific Ocean for the first time? The dangers. The risks. The loneliness, fear, and fatigue. It's hard for me to imagine, but it was done 95 years ago on May 31, 1928 as recounted by Bryan R. Swopes and as published on the website, "Today in Aviation History".

Fokker F.VII/3m NC1985, Southern Cross, ready for takeoff at Oakland Field, California. (San Diego Air & Space Museum Archives)

The crew of Southern Cross, left to right, Lyon, Ulm, Kingsford Smith, Warner. (National Archives of Australia, A1200, L36324)
"31 May 1928: At 8:48 a.m., Captain Charles Edward Kingsford Smith, M.C., late of the Royal Air Force, with his three companions, took off from Oakland Field on the San Francisco Bay, aboard Southern Cross, a Fokker F.VIIb/3m three-engine monoplane, U.S. civil registration NC1985. Their immediate destination was Wheeler Field, Honolulu, Territory of Hawaii, and from there, to Brisbane, Queensland, Australia, via Suva, on the island of Viti Levu, Fiji. The airplane's crew was Kingsford Smith, pilot; Charles Ulm, co-pilot, Harry Lyon, navigator; and James Warren, radio operator.
Southern Cross had been salvaged after a crash in Alaska. It was rebuilt using the wings and fuselage of two different Fokkers—an F.VIIa and an F.VIIb—and was powered by three air-cooled, normally-aspirated 787.26-cubic-inch-displacement Wright Aeronautical Corporation Model J-5 Whirlwind 9-cylinder radial engines, rated at 220 horsepower, each, at 2,000 RPM.


Fokker F.VII/3m NC1985, Southern Cross. (San Diego Air & Space Museum Archives)
The expense of repairing the airplane took most of Kingsford Smith's money, so he sold the airplane to Allan Hancock, owner of Rancho La Brea Oil Company, and founder of Santa Maria Airport and Allan Hancock College. Hancock loaned Southern Cross back to Kingsford Smith for the Trans-Pacific flight.
The first leg of the flight to Wheeler Field was 2,408 miles. The elapsed time was 27 hours, 27 minutes.


Fokker F.VII/3m 1985 Southern Cross arrives at Wheeler Field, Oahu, Territory of Hawaii, 1 June 1928
(San Diego Air & Space Museum Archives)
After resting in Hawaii, the crew took off on the second leg to Suva, Fiji, a distance of 3,144 miles. Southern Cross landed at Albert Park. It was the very first airplane to land at Fiji. This was the longest leg and took 34 hours, 33 minutes.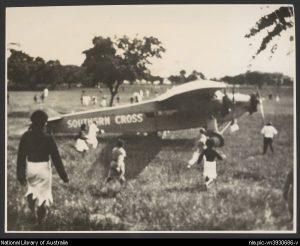 Fokker F.VII/3m Southern Cross at Albert Park, Suva, Fiji, June 1928 (National Library of Australia)
The final leg to Brisbane covered 1,795 miles and took 21 hours, 35 minutes. They landed at Eagle Farm Airport in Brisbane, at 10:50 a.m., 9 June 1928. 25,000 people were there to see their arrival. This was the first Trans-Pacific flight from the mainland United States to Australia.


Kingsford Smith's Fokker F.VIIB/3m NC1985, Southern Cross, landing at Brisbane, 1928
Following its arrival in Australia, the Fokker was re-registered G-AUSU, and later changed to VH-USU. After several other historic flights, Kingsford Smith gave Southern Cross to the government of Australia to be placed in a museum. It was stored for many years but is now on display at the Kingsford Smith Memorial at Brisbane Airport.


Sir Charles Edward Kingsford Smith, M.C., A.F.C. (National Archives of Australia, A1200, L93634)
Kingsford Smith was invested Knight Bachelor in 1932. He continued his adventurous flights. On 8 November 1935, while flying Lady Southern Cross, a Lockheed Altair, from Allahabad, India, to Singapore, Sir Charles and co-pilot Tommy Pethybridge disappeared over the Andaman Sea."


Fokker F.VIIb/3m Southern Cross, NC1985, on display at the Kingsford Smith Memorial, Brisbane Airport. (FiggyBee via Wikipedia)
© 2016, Bryan R. Swopes