Operation Tidal Wave
Contributor: Barry Fetzer
Sources: History.com and NBC Universal, Inc.
While I'm quite certain there were many individual cases of what we once called "shell shock" (now PTSD) amongst the aircrewmen (with 10 in each aircraft's crew, a total of some-1770 men in the aircraft and countless numbers of men in the support crews on the ground) involved in this operation described below, there is something quaint…beautiful really…about we humans: our abilities to collectively participate in massive, horrible, chaotic events and then, when they're over, put them aside, and "move-on" to other matters in our lives and our history.
And while there are still a few that still haven't moved-on (as you'll read below about an Operation Tidal Wave veteran coming "home"), most of us have moved-on from the blip in aviation history that Operation Tidal Wave was, if even we recall it now 80 years later, amongst the thousands of other blips of horrible, chaotic historical aviation events that have occurred. But let's move backward in time for a few moments and recall this blip, and recall what "might"…and "right"…can do, and do it on a massive scale.
According to History.com: "On August 1, 1943, 177 B-24 bombers took off from an Allied base in Libya, bound for the oil-producing city Ploiești, Romania, nicknamed 'Hitler's gas station.' The daring raid, known as Operation Tidal Wave, resulted in five men being awarded the Medal of Honor—three of them posthumously—but failed to strike the fatal blow its planners had intended.
Operation Tidal Wave began ominously, with an overloaded bomber crashing shortly after takeoff and another plunging into the Adriatic Sea. 167 of the original 177 bombers ultimately made it to Ploiești, whose oil fields and refineries provided the Germans with over 8.5 million tons of oil per year. Whereas most Allied bombing in World War II was carried out from a high altitude, the bombers that raided Ploiești flew exceptionally low in order to evade the Germans' radar. The bombers lost the element of surprise, however, when one group veered off on the wrong direction, forcing the others to break radio silence in order to direct them back on course. This unplanned adjustment also led to the bombers approaching from the south, where the Nazis had concentrated their anti-aircraft batteries.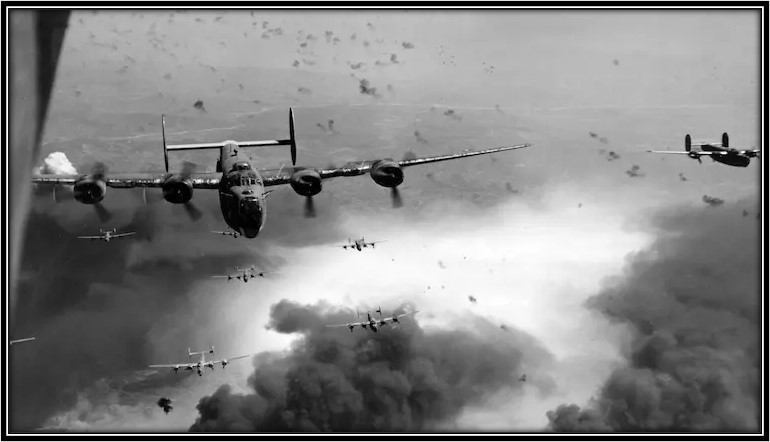 Operation Tidal Wave. Photo Credit: Mondadori via Getty Images
The ensuing attack was dramatic, chaotic and costly. The Allies suffered heavy casualties, and smoke from the explosions caused by the first wave of bombers made visibility difficult for subsequent waves. Survivors reported debris like branches and barbed wire hitting and even ending up on the inside of their planes. Lt. Col. Addison Baker and Maj. John Jerstad were awarded the Medal of Honor for their (unsuccessful) attempt to fly higher and allow the crew to bail out of their badly damaged plane. Another pilot, Lt. Lloyd Herbert Hughes, also received a posthumous Medal of Honor for flying his critically-damaged B-24 into its target. Col. John Kane and Col. Leon Johnson, who each led bombing groups that reached their targets, were the only men who were awarded the Medal of Honor and survived the raid.
Although the Allies estimated that the raid had reduced Ploiești's capacity by 40 percent, the damage was quickly repaired and within months the refineries had outstripped their previous capacity. The region continued to serve as 'Hitler's gas station' until the Soviet Union captured it in August of 1944. 310 airmen died, 108 were captured and another 78 were interned in neighboring Turkey. 88 of the original 177 B-24s returned, most of them seriously damaged. Despite setting the record for most Medals of Honor awarded to airmen in a single mission, Operation Tidal Wave was never repeated—the Allies never again attempted a low-altitude assault against German air defenses."
A recent story about a missing in action Operation Tidal Wave airman is copied below in its entirety, courtesy of Dallas-Fort Worth's TV station NBC 5. This is interesting not only because of the Operation Tidal Wave connection, but also because of our (we Americans') undying quest to bring our warfighters home, even 80 years after their deaths. No other nation makes the same effort or expends the resources we do to locate, identify, and honor our fallen warriors.
Fallen WWII veteran finally comes home to North Texas 80 years after being killed in action
The family of 2nd Lieutenant David M. Lewis waited decades for their long-lost hero to make it home.
By Alanna Quillen • Published July 14, 2023 • Updated on July 14, 2023 at 6:35 pm
NBC Universal, Inc.
It's a homecoming 80 years in the making. Last year a North Texas family learned what happened to their relative who went missing in action during World War II. NBC 5's Alanna Quillen reports on Friday, they welcomed him home.
Last year, NBC 5 covered a remarkable story about a North Texas family who learned what happened to their relative who went missing in action during World War II.
On Friday, the family of 2nd Lieutenant David M. Lewis finally welcomed him home in a special ceremony with honors at DFW Airport.
"It's bittersweet. It's sad that we lost him," said Vivian Dennis-Monzingo, 2nd Lieutenant Lewis' first cousin and closest living relative.
They have waited decades for their long-lost hero to make it home.
"We wanted to honor all veterans. So many of them gave their lives to the war, and others, all their life they've lived with the war," said Dennis-Monzingo.
MISSING IN ACTION
2nd Lieutenant Lewis, son of Ruby Mae Dennis and David Middleton Lewis, was born August 5, 1922. At just 19 years old, he enlisted in the Army Air Corps as a Private on January 8, 1942, and served with the 345th Bombardment Squadron (Heavy) – 98th Bombardment Group (Heavy) – 9th Air Force during World War II.
On August 1, 1943, four days before his 21 birthday, 2nd Lieutenant Lewis was killed while participating in Operation TIDAL WAVE, a bombing raid against the oil refineries around Ploiesti, Romania. American, Soviet, and British leaders supported an unprecedented low-altitude strike against oil refineries at Ploiesti. On August 1, 1943, 177 B-24 Liberators, carrying 1,725 American airmen from five different bombardment groups departed from airfields near Benghazi, Libya.
"It was a very, very treacherous operation," said Dennis-Monzingo, who was 5 years old when Lt. Lewis died but spent her life learning about him from declassified documents provided by the U.S. Army. "It was 51 B24s planes that went down that day."
2nd Lieutenant Lewis was the co-pilot of one of the 51 B-24 Liberators. Of those, 29 crashed or were forced down away from target, while 22 fell in Ploiesti or the immediate vicinity. The War Department concluded that 225 airmen perished during Operation TIDAL WAVE. Following the operation, the Romanian government reported they had recovered and buried 216 Americans killed in the raid, 27 of whom were identified. The rest were buried by Romanian citizens as unknowns in a cemetery in Ploiesti.
After World War II, The American Graves Registration Command recovered dozens of unidentified remains believed to belong to casualties from August 1, 1943. AGRC transported the remains from the Romanian cemetery to U.S. military cemeteries in Belgium and extensive forensic analysis ultimately identified all but about 80 remains from the Bolovan Cemetery. Those that could not be identified were reinterred in Ardennes and Henri-Chapelle, American Cemeteries in Belgium.
Approval was granted in 2017 for a pilot project to exhume 15 unknowns associated with the TIDAL WAVE loss. In 2018, the DPAA requested and later received approval to disinter another 71 Operation TIDAL WAVE unknowns. The remains were transferred to the DPAA Laboratory at Offutt Air Force Base, Nebraska.
In May 2022, approximately 80% of his remains were identified through extensive DNA testing performed at the Armed Forces DNA Identification Laboratory. That's when he was officially and finally accounted for.
"It's a sense of peace and calm. Something we wanted. It was so long that we didn't know," said Dennis-Monzingo, who added what pains the family the most is knowing his grieving parents never got to witness his homecoming.
MEMORIAL SERVICES
A casualty assistance officer with Fort Cavazos traveled up from Killeen to support the family throughout the memorial services this weekend.
"It's very important for us to bring our family members home no matter how much time has passed. I know I would appreciate it if it was my family member," said Officer Gwendolyn Bastian. "We're a family. Her loss is our loss. Her gain is our gain. We're on a mission now to make sure we're giving our families closure."
Dozens of motorcyclists with Patriot Guard Riders also showed their support for Lt. Lewis, escorting his remains on the long two-hour drive to his final resting place in Sulphur Springs. That's where he will be laid to rest alongside his mother and many relatives.
"We attend services for fallen soldiers, veterans and first responders," said Jeffrey Whike with Patriot Guard Riders. "The families are very honored that there are people that are honoring his service of what he did for our country."
2nd Lieutenant Lewis' family hopes their story inspires others still waiting for their heroes to return home.
"We're so thankful to have him home. And that is a homecoming," said Dennis-Monzingo. "Our best wishes to all the families who are still looking for their loved ones to come home."
Funeral services are being held on Saturday morning at West Oaks Funeral Home. Dr. Megan Ingvoldstad – the military scientist who helped identify 2nd Lieutenant Lewis and bring his family closure – will be one of many guest speakers at his funeral.