Atlantis and Mir
Author: Barry Fetzer
It's probably just me (although I'd feel better if I knew others are as nuts as I am), but why is it I like round numbers so much? It may be my "manageable OCD" (manageable, depending on the eye of the beholder I suppose), enhanced, a bit, by my stint in the Marines. I'd bet there's more than one psychologist or psychiatrist that would describe the Marines as the "OCD Service"…and me as "crazy".
Just as the Marines do I, too, like things squared away. Thankfully, my registered nurse wife has a similar affliction. Nurses are a lot like Marines. They, too, have to be precise.
I straighten the forks, spoons, and knives to a precise 360 degrees when I'm setting the supper table. I polish the little brass finials on our lamp posts. I have a 7.62 ammo can filled (neatly) with polish and shoe brushes and polish my "Sunday" shoes before wearing them. I still pull a tight military tuck in my shirts so they're not bunched up in the back. I use hospital corners when making the bed and ensure I tuck a sharp 45-degree angle on the top sheet at the end of the mattress. I still get a tapered, "regulation" haircut. My tools are lined-up in the garage and/or put away in the drawer in which they belong, lined-up "hup two three four" like a military formation in the drawers. I always try to stop the gas pump on an even dollar number when filling up our vehicles and an even gallon number when I'm refueling aircraft at Moore County Airport where I work as a line technician. I feel let down if I taxi an aircraft past the painted parking "T" where the nose-gear belongs. I like the chocks to be placed at a precise 90 degrees to the landing gear tires at which I place them. Catawampus doesn't work well for me.
When I was flying, I hated being even 10 feet off of my intended altitude or 10 knots off my intended airspeed. I failed often, but I never stopped trying to get to that "perfect" number…oh, that satisfying, feel-good, gratifying, rewarding, round number!
Call me crazy (and you'd probably be right) but that's why I really like this historical vignette about the Space Shuttle Atlantis docking with Mir: the satisfying round number of 100.
From History.com: "On June 29, 1995, the American space shuttle Atlantis docked with the Russian space station Mir to form the largest man-made satellite ever to orbit the Earth.
This historic moment of cooperation between former rival space programs was also the 100th human space mission in American history. At the time, Daniel Goldin, chief of the National Aeronautics and Space Administration (NASA), called it the beginning of 'a new era of friendship and cooperation' between the U.S. and Russia. With millions of viewers watching on television, Atlantis blasted off from NASA's Kennedy Space Center in eastern Florida on June 27, 1995.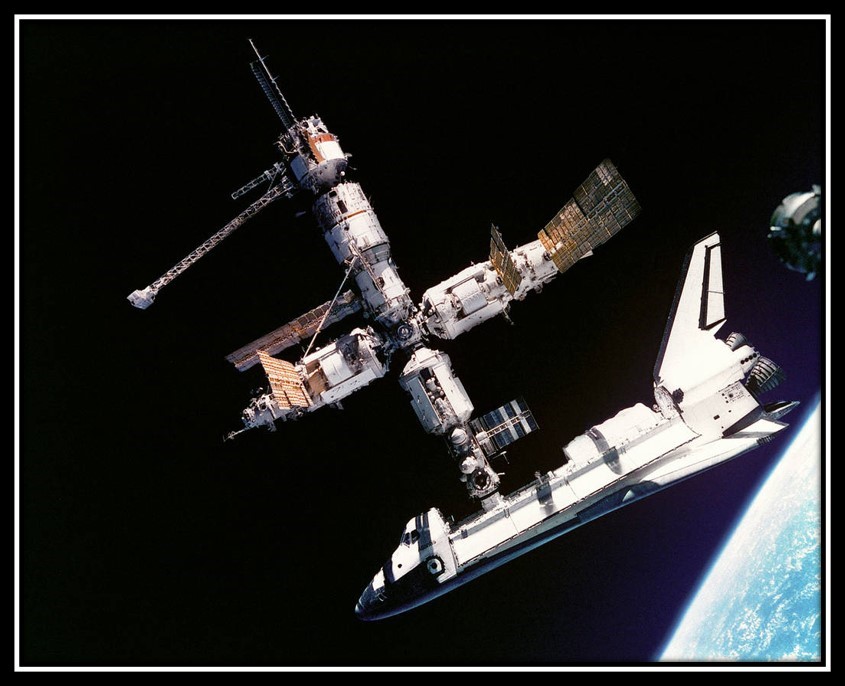 Atlantis docked with Mir. Courtesy NASA. How the heck did they get this photo?
Just after 6 a.m. on June 29, Atlantis and its seven crew members approached Mir as both crafts orbited the Earth some 245 miles above Central Asia, near the Russian-Mongolian border. When they spotted the shuttle, the three cosmonauts on Mir broadcast Russian folk songs to Atlantis to welcome them. Over the next two hours, the shuttle's commander, Robert 'Hoot' Gibson expertly maneuvered his craft towards the space station. To make the docking, Gibson had to steer the 100-ton shuttle to within three inches of Mir at a closing rate of no more than one foot every 10 seconds.
The docking went perfectly and was completed at 8 a.m., just two seconds off the targeted arrival time and using 200 pounds less fuel than had been anticipated. Combined, Atlantis and the 123-ton Mir formed the largest spacecraft ever in orbit. It was only the second time ships from two countries had linked up in space; the first was in June 1975, when an American Apollo capsule and a Soviet Soyuz spacecraft briefly joined in orbit.
Once the docking was completed, Gibson and Mir's commander, Vladimir Dezhurov, greeted each other by clasping hands in a victorious celebration of the historic moment. A formal exchange of gifts followed, with the Atlantis crew bringing chocolate, fruit and flowers and the Mir cosmonauts offering traditional Russian welcoming gifts of bread and salt. Atlantis remained docked with Mir for five days before returning to Earth, leaving two fresh Russian cosmonauts on the space station. The three veteran Mir crew members returned with the shuttle, including two Russians and Norman Thagard, a U.S. astronaut who rode a Russian rocket to the space station in mid-March 1995 and spent over 100 days in space, a U.S. endurance record. NASA's Shuttle-Mir program continued for 11 missions and was a crucial step towards the construction of the International Space Station now in orbit."